Shopping Cart
Your Cart is Empty
Thank you for your business!
You should be receiving an order confirmation from Paypal shortly.
Exit Shopping Cart
One of the cornerstones of Scouting, and thus Guiding, was and is the Patrol. The gang of friends led by a peer, who worked together on activities and projects. In Scouting, the Patrols had been named after animals. I an attempt to appease parents, the Guide Patrols were named after flowers and birds. Up to the mid-1960s, as well as the Patrol Badge, Guides also wore coloured tapes on the left shoulder in the Patrol colours, as an extra distinguishing mark. Over the years new Patrol badges were introduced and old ones dropped, so I will list the years when each Patrol Badge featured in the handbook, rulebook or trading catalogue. In addition to these official Patrol options, it was also permitted for Patrols to choose an alternative name, and 'blank' badges, with the red ring ready-embroidered, were available for Patrols to personalize. Then in the late 1990s the fabric Patrol Badges were replaced by a range of metal pin badges.
Acorn
Brown and Green Shoulder Knot
1920 Handbook
1921 POR
Bantam
Red and Yellow Shoulder Knot
1918 Handbook
1920 Handbook
1921 POR
1924 POR
1929 Trading Service Catalogue
1932 Bukta Uniform Catalogue
1947 Guide Handbook
1951 Guide Handbook
1954 Guide Handbook
1962 Guide Trading Leaflet
Blackbird
Black and Yellow Shoulder Knot
1918 Handbook
1920 Handbook
1921 POR
1924 POR
1929 Trading Service Catalogue
1932 Bukta Uniform Catalogue
1947 Guide Handbook
1951 Guide Handbook
1954 Guide Handbook
1962 Guide Trading Leaflet
Bluebell
Green and Blue Shoulder Knot
1920 Handbook
1921 POR
1924 POR
1929 Trading Service Catalogue
1932 Bukta Uniform Catalogue
1947 Guide Handbook
1951 Guide Handbook
1954 Guide Handbook
1962 Guide Trading Leaflet
Bluetit
Blue and Yellow Shoulder Knot
1924 POR
1929 Trading Service Catalogue
1932 Bukta Uniform Catalogue
1947 Guide Handbook
1951 Guide Handbook
1954 Guide Handbook
1962 Guide Trading Leaflet
Bullfinch
Black and Red Shoulder Knot
1924 POR
1929 Trading Service Catalogue
1932 Bukta Uniform Catalogue
1947 Guide Handbook
1951 Guide Handbook
1954 Guide Handbook
1962 Guide Trading Leaflet
Buttercup and Daisy
Yellow and White Shoulder Knot
1918 Handbook
1920 Handbook
1921 POR
1924 POR
1929 Trading Service Catalogue
1947 Guide Handbook
1951 Guide Handbook
1954 Guide Handbook
1932 Bukta Uniform Catalogue
Buttercup
Yellow Shoulder Knot
1924 POR
1929 Trading Service Catalogue
1932 Bukta Uniform Catalogue
1947 Guide Handbook
1951 Guide Handbook
1954 Guide Handbook
1962 Guide Trading Leaflet
Canary
Yellow and White Shoulder Knot
1918 Handbook
1920 Handbook
1921 POR
1924 POR
1929 Trading Service Catalogue
1932 Bukta Uniform Catalogue
1947 Guide Handbook
1951 Guide Handbook
1954 Guide Handbook
1962 Guide Trading Leaflet
Chaffinch
Grey and Salmon Pink Shoulder Knot
1924 POR
1929 Trading Service Catalogue
1932 Bukta Uniform Catalogue
1947 Guide Handbook
1951 Guide Handbook
1954 Guide Handbook
1962 Guide Trading Leaflet
Clover
Green and Mauve Shoulder Knot
1920 Handbook
1921 POR
1924 POR
1929 Trading Service Catalogue
1932 Bukta Uniform Catalogue
1947 Guide Handbook
1951 Guide Handbook
1954 Guide Handbook
1962 Guide Trading Leaflet
Cornflower
Royal Blue Shoulder Knot
1918 Handbook
1920 Handbook
1921 POR
1924 POR
1929 Trading Service Catalogue
1932 Bukta Uniform Catalogue
1947 Guide Handbook
1951 Guide Handbook
1954 Guide Handbook
1962 Guide Trading Leaflet
Daffodil
Yellow and Dark Green Shoulder Knot
1918 Handbook
1920 Handbook
1921 POR
1924 POR
1929 Trading Service Catalogue
1932 Bukta Uniform Catalogue
1947 Guide Handbook
1951 Guide Handbook
1954 Guide Handbook
1962 Guide Trading Leaflet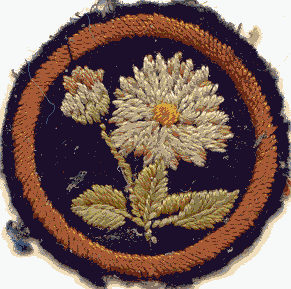 Daisy
Pink and White Shoulder Knot
1924 POR
1929 Trading Service Catalogue
1932 Bukta Uniform Catalogue
1947 Guide Handbook
1951 Guide Handbook
1954 Guide Handbook
1962 Guide Trading Leaflet
Dandelion
Dark Green and Yellow Shoulder Knot
1924 POR
1929 Trading Service Catalogue
1932 Bukta Uniform Catalogue
1947 Guide Handbook
1951 Guide Handbook
1954 Guide Handbook
Forget-Me-Not
Pale Blue and White Shoulder Knot
1918 Handbook
1920 Handbook
1921 POR
1924 POR
1929 Trading Service Catalogue
1932 Bukta Uniform Catalogue
1947 Guide Handbook
1951 Guide Handbook
1954 Guide Handbook
1962 Guide Trading Leaflet
Fuchsia
Dark Red and Royal Blue Shoulder Knot
1918 Handbook
1920 Handbook
1921 POR
1924 POR
1929 Trading Service Catalogue
1932 Bukta Uniform Catalogue
1947 Guide Handbook
1951 Guide Handbook
1954 Guide Handbook
1962 Guide Trading Leaflet
Hawthorn
Red and Green Shoulder Knot
1962 Guide Trading Leaflet
Heather/Purple Heather
Purple and Green Shoulder Knot
1920 Handbook
1921 POR
1924 POR
1929 Trading Service Catalogue
1932 Bukta Uniform Catalogue
1947 Guide Handbook
1951 Guide Handbook
1954 Guide Handbook
1962 Guide Trading Leaflet
Holly
Red and Green Shoulder Knot
1920 Handbook
1921 POR
1924 POR
1929 Trading Service Catalogue
1932 Bukta Uniform Catalogue
1947 Guide Handbook
1951 Guide Handbook
1954 Guide Handbook
1962 Guide Trading Leaflet
Honesty
Purple and Yellow Shoulder Knot
1920 Handbook
1921 POR
1924 POR
1929 Trading Service Catalogue
1932 Bukta Uniform Catalogue
1947 Guide Handbook
1951 Guide Handbook
1954 Guide Handbook
1962 Guide Trading Leaflet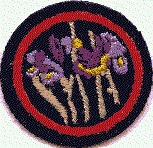 Iris
Purple and White Shoulder Knot
1918 Handbook
1920 Handbook
1921 POR
1924 POR
1929 Trading Service Catalogue
1932 Bukta Uniform Catalogue
1947 Guide Handbook
1951 Guide Handbook
1954 Guide Handbook
1962 Guide Trading Leaflet
Ivy
Green Shoulder Knot
1920 Handbook
1921 POR
1924 POR
1929 Trading Service Catalogue
1932 Bukta Uniform Catalogue
1947 Guide Handbook
1951 Guide Handbook
1954 Guide Handbook
Kingfisher
Blue and Rust Brown Shoulder Knot
1924 POR
1929 Trading Service Catalogue
1932 Bukta Uniform Catalogue
1947 Guide Handbook
1951 Guide Handbook
1954 Guide Handbook
1962 Guide Trading Leaflet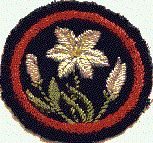 Lily
White and Yellow Shoulder Knot
1920 Handbook
1921 POR
1924 POR
1929 Trading Service Catalogue
1932 Bukta Uniform Catalogue
1947 Guide Handbook
1951 Guide Handbook
1954 Guide Handbook
1962 Guide Trading Leaflet
Lily Of The Valley
White and Green Shoulder Knot
1920 Handbook
1921 POR
1924 POR
1929 Trading Service Catalogue
1932 Bukta Uniform Catalogue
1947 Guide Handbook
1951 Guide Handbook
1954 Guide Handbook
1962 Guide Trading Leaflet
Marguerite
Dark Green and White Shoulder Knot
1918 Handbook
1920 Handbook
1921 POR
1924 POR
1929 Trading Service Catalogue
1932 Bukta Uniform Catalogue
1947 Guide Handbook
1951 Guide Handbook
1954 Guide Handbook
1962 Guide Trading Leaflet
Mistletoe
Green and White Shoulder Knot
1920 Handbook
1921 POR
1924 POR
1929 Trading Service Catalogue
1932 Bukta Uniform Catalogue
1947 Guide Handbook
1951 Guide Handbook
1954 Guide Handbook
Nightingale
Grey and Yellow Shoulder Knot
1918 Handbook
1920 Handbook
1921 POR
1924 POR
1929 Trading Service Catalogue
1932 Bukta Uniform Catalogue
1947 Guide Handbook
1951 Guide Handbook
1954 Guide Handbook
1962 Guide Trading Leaflet
Orchid
Mauve and Yellow Shoulder Knot
1920 Handbook
1921 POR
1929 Trading Service Catalogue
1932 Bukta Uniform Catalogue
1947 Guide Handbook
1951 Guide Handbook
1954 Guide Handbook
1962 Guide Trading Leaflet
Pansy
Brown and White Shoulder Knot
1918 Handbook
1920 Handbook
1921 POR
1924 POR
1929 Trading Service Catalogue
1932 Bukta Uniform Catalogue
1947 Guide Handbook
1951 Guide Handbook
1954 Guide Handbook
1962 Guide Trading Leaflet
Poppy
Bright Red and Black Shoulder Knot
1918 Handbook
1920 Handbook
1921 POR
1924 POR
1929 Trading Service Catalogue
1932 Bukta Uniform Catalogue
1947 Guide Handbook
1951 Guide Handbook
1954 Guide Handbook
1962 Guide Trading Leaflet
Primrose
Yellow Shoulder Knot
1918 Handbook
1920 Handbook
1921 POR
1924 POR
1929 Trading Service Catalogue
1932 Bukta Uniform Catalogue
1947 Guide Handbook
1951 Guide Handbook
1954 Guide Handbook
1962 Guide Trading Leaflet
Red Rose
Dark Green and Red Shoulder Knot
1918 Handbook
1920 Handbook
1921 POR
1924 POR
1929 Trading Service Catalogue
1932 Bukta Uniform Catalogue
1947 Guide Handbook
1951 Guide Handbook
1954 Guide Handbook
1962 Guide Trading Leaflet
Robin
Brown and Red Shoulder Knot
1918 Handbook
1920 Handbook
1921 POR
1924 POR
1929 Trading Service Catalogue
1932 Bukta Uniform Catalogue
1947 Guide Handbook
1951 Guide Handbook
1954 Guide Handbook
1962 Guide Trading Leaflet
Scarlet Pimpernel
Scarlet Shoulder Knot
1918 Handbook
1920 Handbook
1921 POR
1924 POR
1929 Trading Service Catalogue
1932 Bukta Uniform Catalogue
1947 Guide Handbook
1951 Guide Handbook
1954 Guide Handbook
1962 Guide Trading Leaflet
Shamrock
Green Shoulder Knot
1920 POR
1921 POR
1924 POR
1929 Trading Service Catalogue
1932 Bukta Uniform Catalogue
1947 Guide Handbook
1951 Guide Handbook
1954 Guide Handbook
1962 Guide Trading Leaflet
Skylark
Grey and Brown Shoulder Knot
1918 Handbook
1920 Handbook
1921 POR
1924 POR
1929 Trading Service Catalogue
1932 Bukta Uniform Catalogue
1947 Guide Handbook
1951 Guide Handbook
1954 Guide Handbook
1962 Guide Trading Leaflet
Snowdrop
Green and White Shoulder Knot
1920 Handbook
1921 POR
1924 POR
1929 Trading Service Catalogue
1932 Bukta Uniform Catalogue
1947 Guide Handbook
1951 Guide Handbook
1954 Guide Handbook
1962 Guide Trading Leaflet
Sparrow
Black and Brown
1918 Handbook
1920 Handbook
1921 POR
1929 Trading Service Catalogue
1932 Bukta Uniform Catalogue
1947 Guide Handbook
1951 Guide Handbook
1954 Guide Handbook
1962 Guide Trading Leaflet
Speedwell
Blue and Green Shoulder Knot
1920 Handbook
1921 POR
1929 Trading Service Catalogue
1932 Bukta Uniform Catalogue
1947 Guide Handbook
1951 Guide Handbook
1954 Guide Handbook
1962 Guide Trading Leaflet
Sunflower
Dark Brown and Yellow Shoulder Knot
1918 Handbook
1920 Handbook
1921 POR
1924 POR
1929 Trading Service Catalogue
1932 Bukta Uniform Catalogue
1947 Guide Handbook
1951 Guide Handbook
1954 Guide Handbook
1962 Guide Trading Leaflet
Swallow
Dark Blue and White Shoulder Knot
1918 Handbook
1920 Handbook
1921 POR
1924 POR
1929 Trading Service Catalogue
1932 Bukta Uniform Catalogue
1947 Guide Handbook
1951 Guide Handbook
1954 Guide Handbook
1962 Guide Trading Leaflet
Thistle
Green and Purple Shoulder Knot
1920 Handbook
1921 POR
1924 POR
1929 Trading Service Catalogue
1932 Bukta Uniform Catalogue
1947 Guide Handbook
1951 Guide Handbook
1954 Guide Handbook
1962 Guide Trading Leaflet
Thrush
Brown and Yellow Shoulder Knot
1918 Handbook
1920 Handbook
1921 POR
1924 POR
1929 Trading Service Catalogue
1932 Bukta Uniform Catalogue
1947 Guide Handbook
1951 Guide Handbook
1954 Guide Handbook
1962 Guide Trading Leaflet
Violet
Violet Shoulder Knot
1918 Handbook
1920 Handbook
1921 POR
1924 POR
1929 Trading Service Catalogue
1932 Bukta Uniform Catalogue
1947 Guide Handbook
1951 Guide Handbook
1954 Guide Handbook
1962 Guide Trading Leaflet
White Heather
Green and White Shoulder Knot
1924 POR
1929 Trading Service Catalogue
1932 Bukta Uniform Catalogue
1947 Guide Handbook
1951 Guide Handbook
1954 Guide Handbook
1962 Guide Trading Leaflet
White Rose
Green and White Shoulder Knot
1918 Handbook
1920 Handbook
1921 POR
1924 POR
1929 Trading Service Catalogue
1932 Bukta Uniform Catalogue
1947 Guide Handbook
1951 Guide Handbook
1954 Guide Handbook
1962 Guide Trading Leaflet
Wren
Brown Shoulder Knot
1918 Handbook
1920 Handbook
1921 POR
1924 POR
1929 Trading Service Catalogue
1932 Bukta Uniform Catalogue
1947 Guide Handbook
1951 Guide Handbook
1954 Guide Handbook
1962 Guide Trading Leaflet
/